What did Santa bring the photographers this year?
I hope everyone had a great Christmas and was able to spend lots of time with family and friends. As photographers I image we are pretty hard to buy for as we can be very specific on what it is we are looking for or want to use. As I always like to learn more about photography I asked for some books to allow me to continue to learn.
One of the gifts my wife Mayumi gave me was a photography book that I have been wanting to get for a while now; Chris Orwig's Visual Poetry. Chris is a faculty member of the world renown Brooks Institute of Photography in Santa Barbara, California. I completed his Adobe Lightroom course on lynda.com and really enjoyed it. I get so much more out of Lightroom after taking this course. I am currently taking his Adobe CS5 Photoshop for Photographers. He has a few more advanced courses that I will take when I finish this 20 hours course. I respond very well to his teaching style so I am really looking forward to learning his approach to photography.
My parents also picked me up two of Michael Freeman's books. Michael is one of the most widely published photographers with more than 120 books. He has been published in most major international magazines and a three decade career photographing for Smithsonian.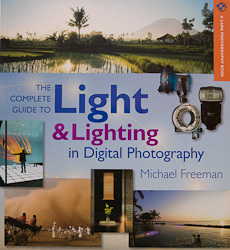 What did Santa bring YOU this year?
Leave a comment below and let us know if Santa left you some photography toys.
Santa was also great to my son Kai this year....he came and left lots of gifts for Kai in exchange for a few Starbucks cookies. My house is now full of Ben 10 toys from the US.
Thanks for stopping by today...