Anti Nuclear Protest in Tokyo
Yesterday I ran out this afternoon to see the Anti Nuclear Protest in Tokyo. It was going on in Shibuya. They were much more expansive than I had imaged. Pipo-chan looks like the conductor. きのう、渋谷に原発反対デモをみに行けました。すごくたくさん人がいました。ピポくんはデモの部長(ぶちょう)みたいでした。
Today's Configuration: Canon 5D MK2 with a Canon L Series 24-70mm f/2.8.
今日のカメラ:私のCanon 5D MK2をつかいます。レンズはCanon L せリス24-70mm f/2.8つかいました。
Japanese Word of the Day: 原発(げんぱつ)genpatsu – nuclear power plant, nuclear power supply
example:
きのう渋谷で原発反対(はんたい)デモをしました。
Yesterday there was a protest in Shibuya against nuclear power use.
Slightly unrelated to the Anti-Nuclear protests, this small group, protected by about 50 cops, were basically protesting against non-Japanese calling them 'invaders' and telling them to go home. They basically screamed their messages of hate when the protesters went by. Interestingly they all had shirts in English of western brands and bands... If you tried to take their picture the police pulled you away. I have never seen this before in Tokyo...
この人たちは外人(がいじん)ぎらいです。。。警察かん(けいさつ)が"しゃしんをとらないでください"といっていました。東京ではみたことがありません。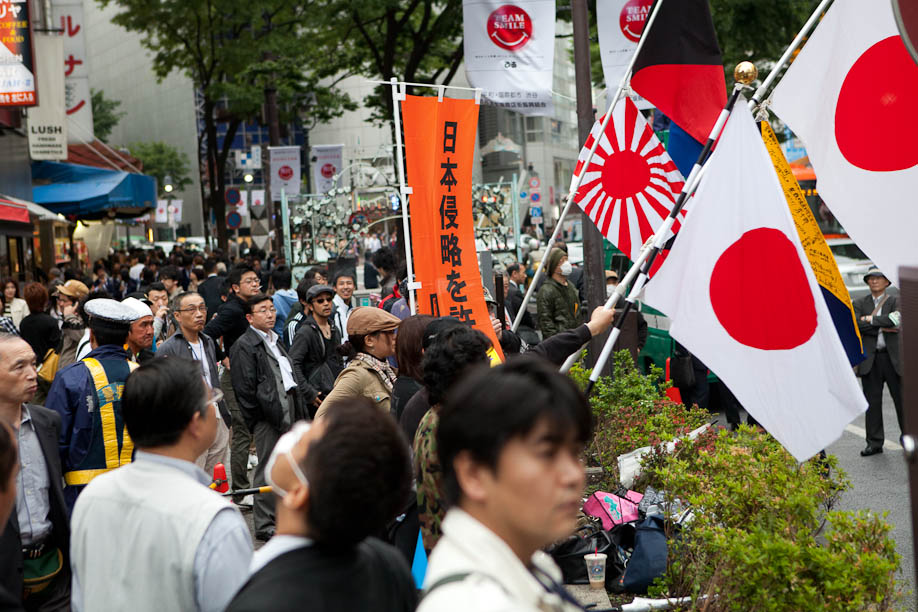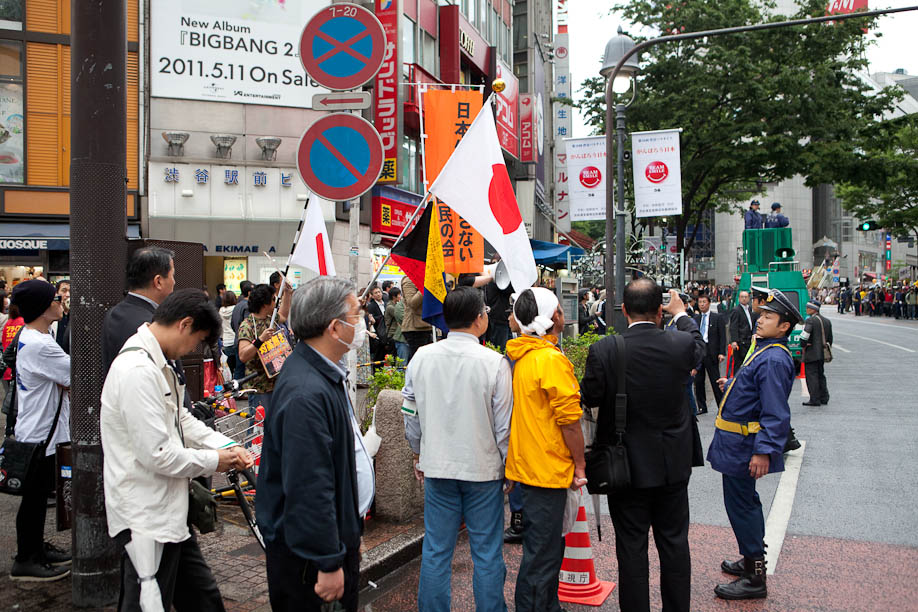 Now onto the more sensible protest...I was very impressed with how organized the police were in handling this.
警察はがんばりました。いいしごとをしました。
Quite a scene...even for Shibuya Crossing...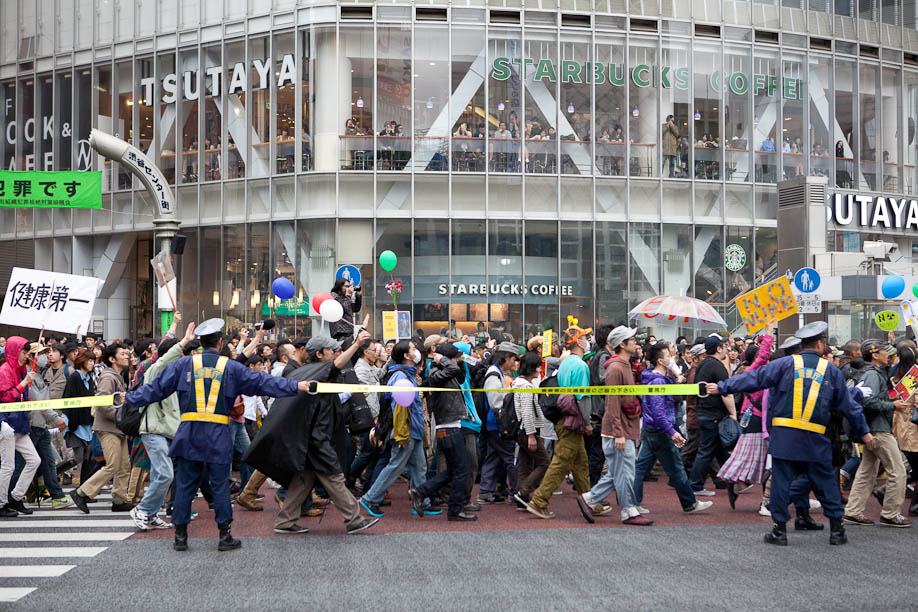 Help, No Nukes...
たすけて!原発反対!
Hey Hey Ho Ho Genpatsus gotta go, Hey Hey Ho Ho Genpatsus gotta go...actually their song loosely translated to nuclear power is dangerous, we don't need nuclear power.
デモのうたです。
原発あぶない。。。
原発いらない。。。
原発あぶない。。。
What's that, you say? There is a protest coming? Really? Are you sure?
なに? デモですか?  ほんとですか? うそです。 いつですか?
The protest was even lead by a truck with a band on it.
このデモにはバンドがいました。
Everyone be calm, please go this way in an orderly fashion....
This protest even had a DJ...
DJもいました。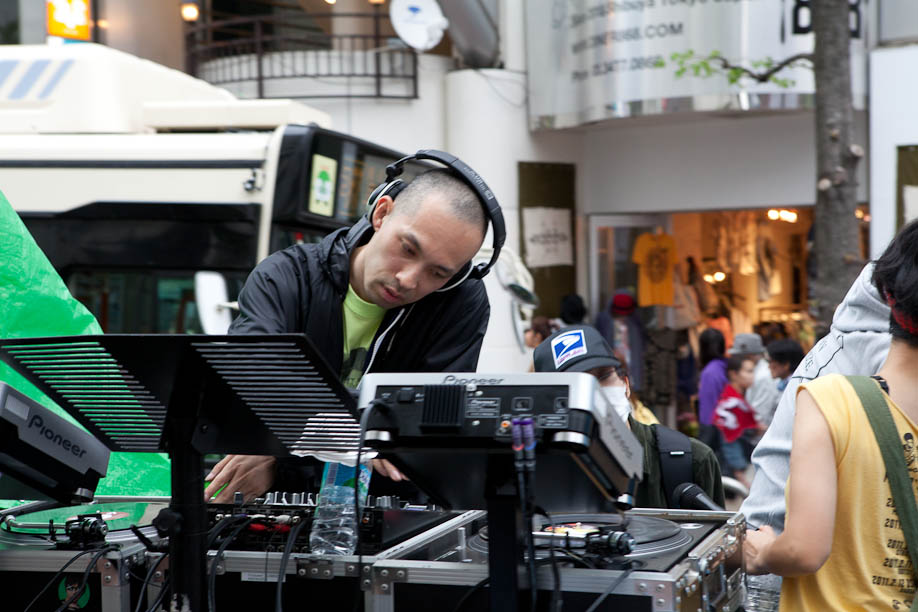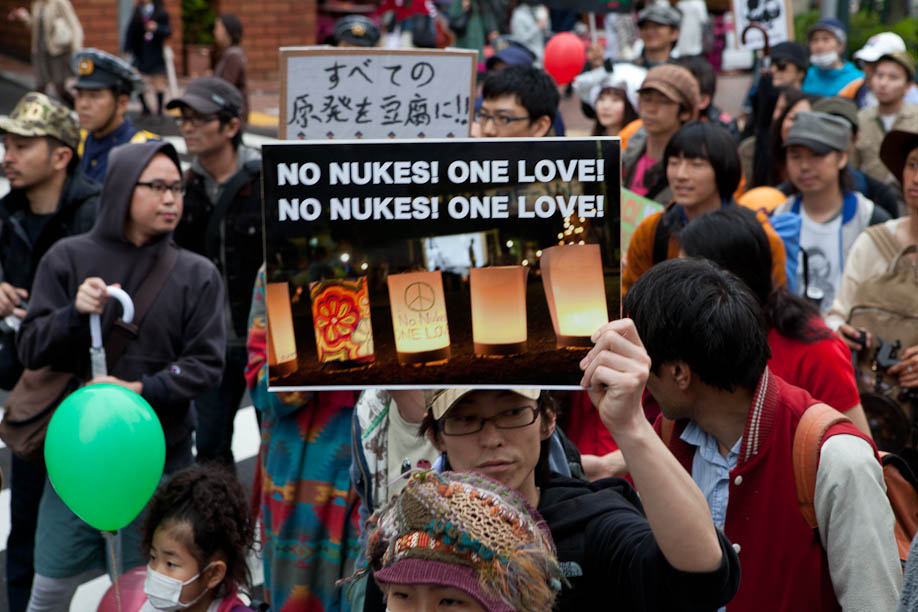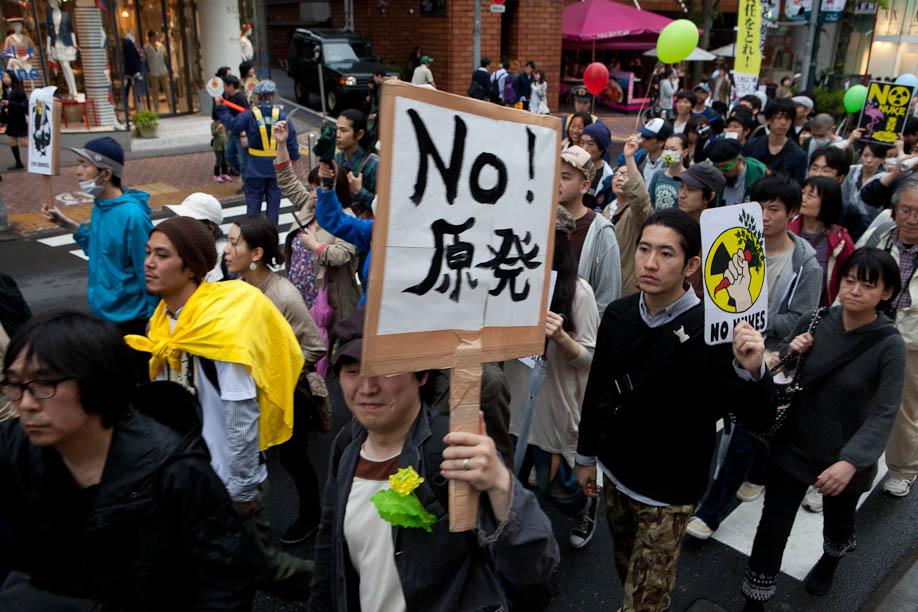 No Nuke Power! I haven't been using zooms for a while so I forgot to stop zooming when I press the shutter release. I like the effect it gave me on this one.
They Lie, We Die...
かれらはうそをつきます。私たちは死に(しに)ます。
We can create life without nukes.
Happy Protesters...
たのしい人たち。。。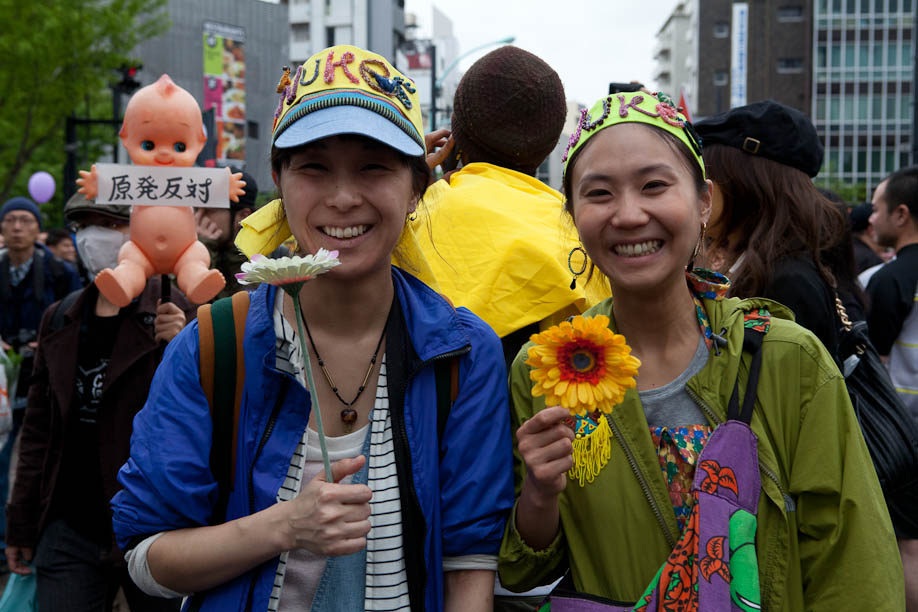 Fuck Tepco... Not sure why but this guy had a lot of police escorts.
I think this is my favorite shot of the day...
このしゃしんはいちばんすきなしゃしんです。
Radioactivity has no boarders...to the world from Japan, sorry.
ごめなさい。。。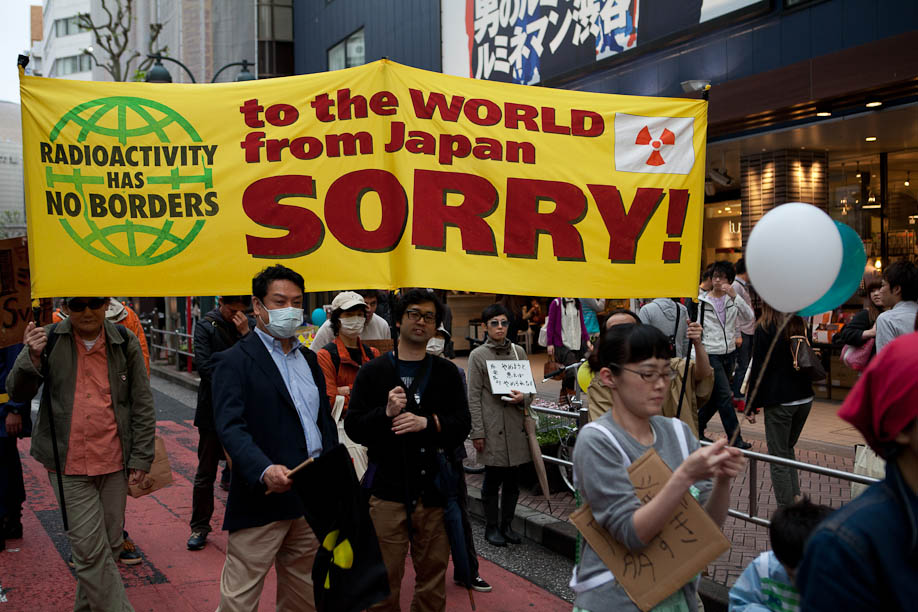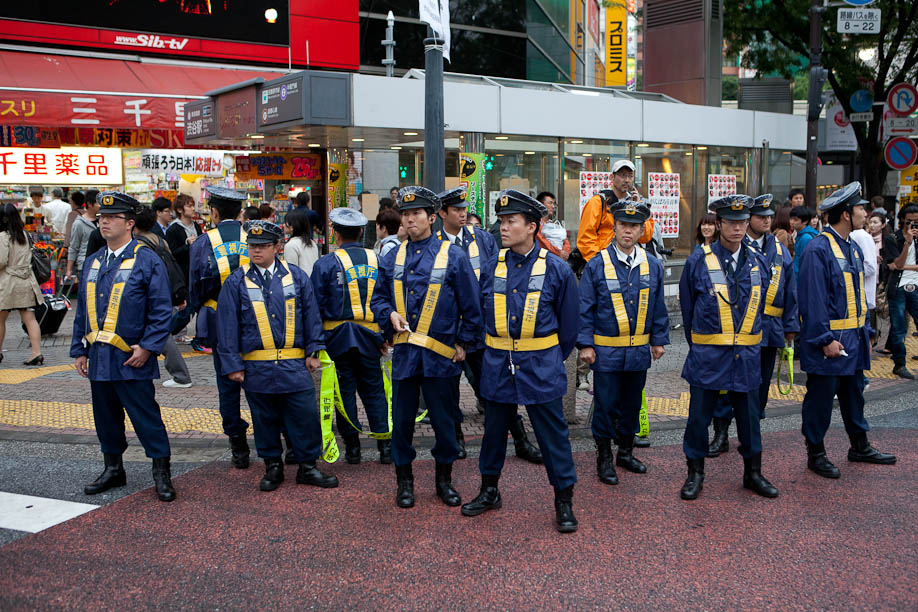 This is my other favorite of the day. I wish she was making eye contact when I pressed the shutter release button.
このしゃしんもすきです。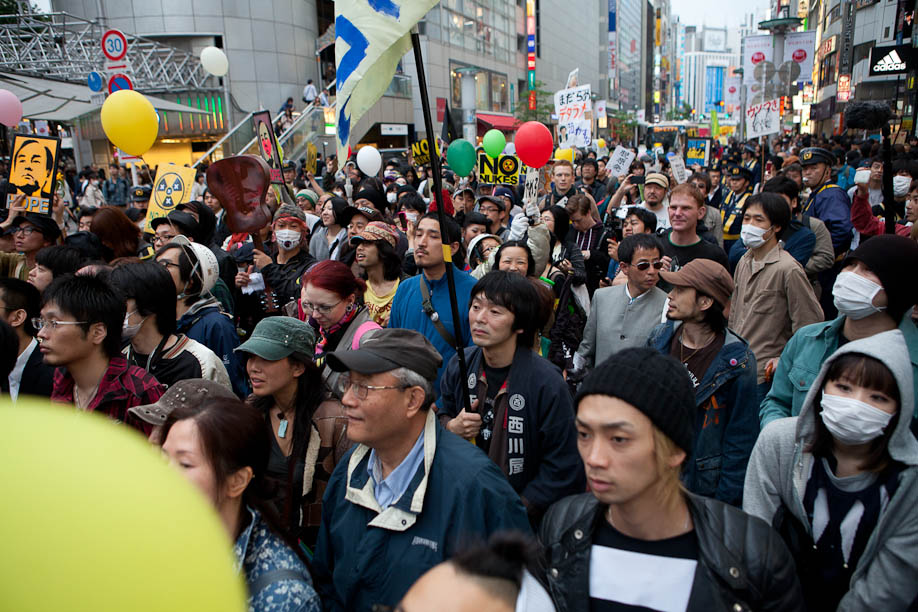 I love this drawing...bye bye Nukes.
これすき。。。バイバイ原発。
This sign says "All Nuclear Power - Sayonara".
原発はぜんぶサヨナラ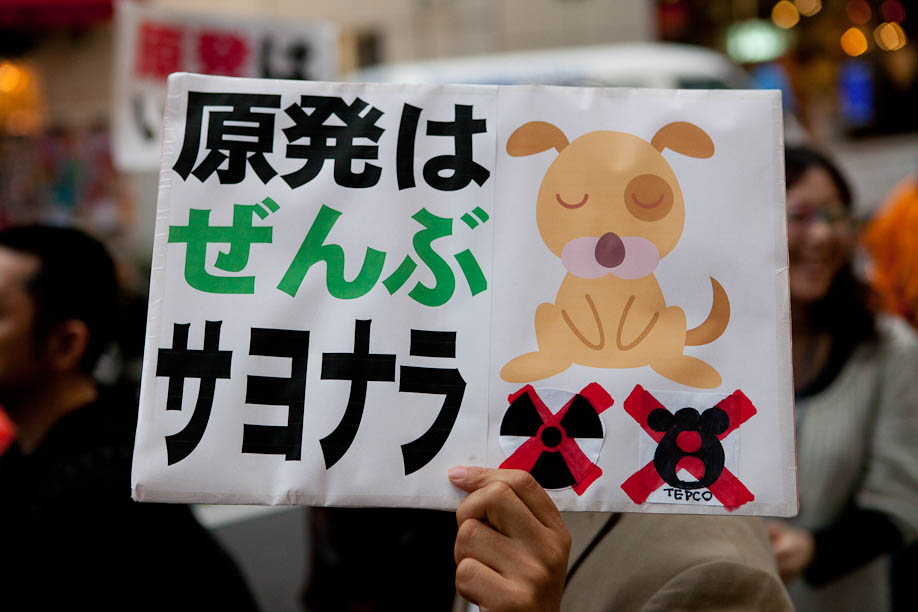 The TEPCO marching percussion band.
TEPCOのバンドです。。。
Nuclear Power is Dangerous and scary...
原発あぶないしおっかない
Protest is over...did anyone else go? What were your thoughts? Leave a comment.
デモはおわりです、、だれかいきましたか?どう思いましたか?コメントをいれてください。
...and today is Mother's Day. A big Thank You to Mayumi for being such a strong and wonderful mother in raising Kai. He is very lucky to have you...
今日はははの日です。 真由美ちゃんほんとにありがとです。 海ちゃんはラッキーです。
See everyone tomorrow!
あしたね!