Perspective
One thing I love about Japan is how it shuts down completely for the week around New Years. Jiyugaoka turns into a ghost town for a day or two and slowly beings to wake up a the year starts. Most employees at companies have off from the 27th to the 6th. Work resumes for people tomorrow so I am starting to mentally reconnect but I am coming back recharged, refreshed and ready to go. This time off gave me some much needed family time. It gave me time to reconnect with photography a bit more. Buying the Hasselblad was perfect timing as I had the time I needed to shoot it and really enjoy it. I think I have shot 15 rolls already. My friend David send me a link to Johnny Patience's blog talking about what it is like to shoot a Hasselblad. He does a fantastic job of explaining the what it is like.
I read a great post on Seth Godin's blog the other day called No one reads a comic strip because it's drawn well. The closing puts things into perspective: 'As creators, our pursuit of perfection might be misguided, particularly if it comes at the expense of the things that matter.' I finished a lot of projects around ShootTokyo over the break and this post was a good reflection on something I kept reminding myself. It doesn't always need to be perfect. Often 'good enough' is actually good enough. It is good to keep these things in perspective.
Today's configuration:Hasselblad 501cm with a Carl Zeiss Planar 80mm f/2.8 shot on Ilford 400 XP2.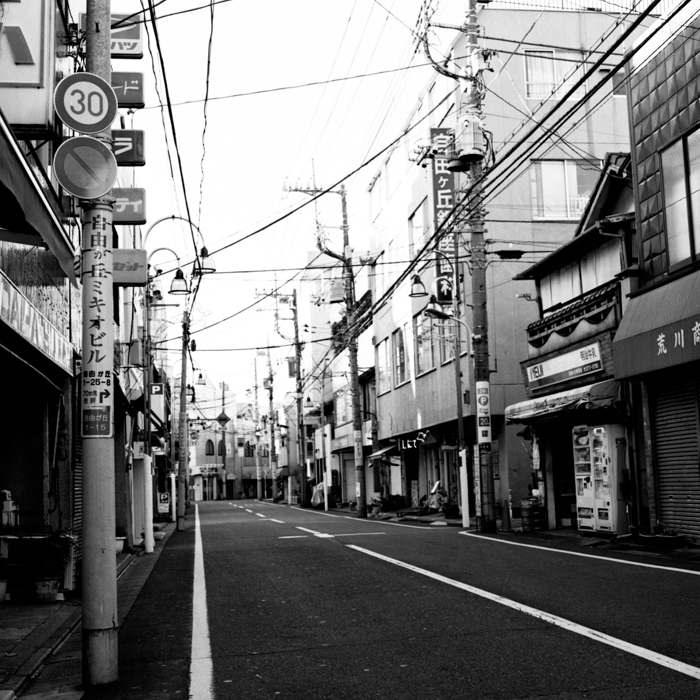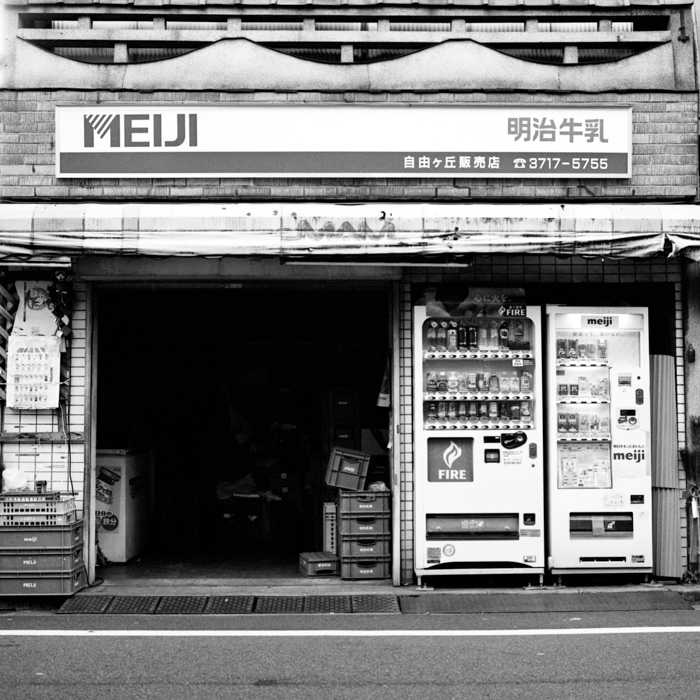 I met up with my friend Stefan and helped him a bit with his blog and to create a new portfolio on SmugMug. Check out some of his fantastic photography. I had to say I am very bias towards SmugMug after setting up my site. I am so impressed with what I was able to create with very little effort. When I have a question their support is fantastic and fast. They have given me a discount code for readers of ShootTokyo. Use the code SHOOTTOKYOSM and get 20% your first year. It also helps me to reduce the cost of running my SmugMug site but thats not why I recommend. I recommend it because it helps me to create an amazing portfolio site.
Stefan took this photo of me. It came out fantastic. Mine of him not so good - very soft. The good news is I figured out what I am doing wrong. I kept holding the camera up to my eye and focusing with the magnifier and then closing the magnifier and dropping the camera to waist level to frame. The depth of field is so shallow on Medium Format that even at f/2.8 that shift will cause the image to shift out of focus. I keep thinking f/2.8 in 35mm. You need to either focus waist level or eye level but not both.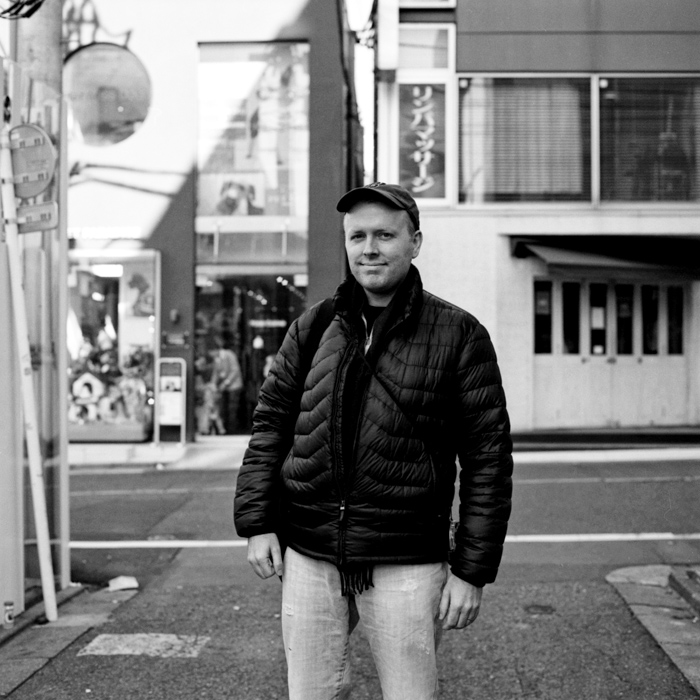 The ShootTokyo Mobile... S5 (S stands for Shoot)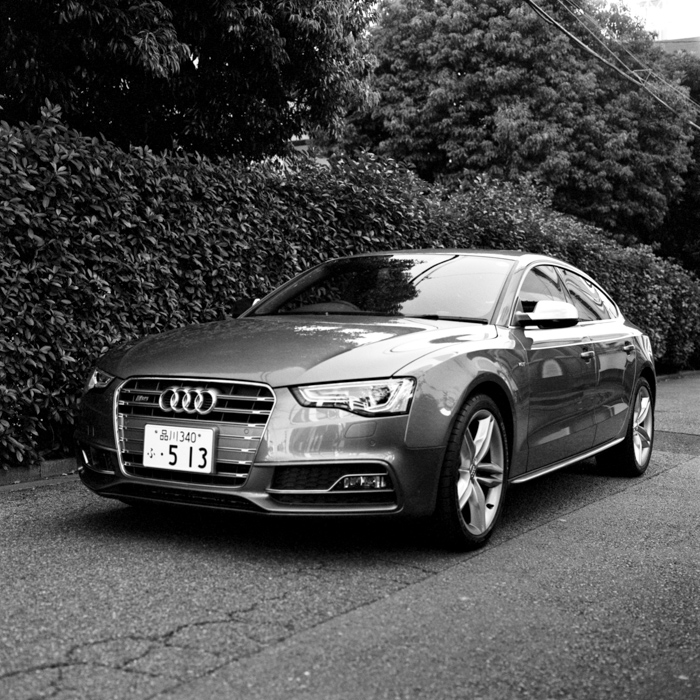 I went out shooting with my friend David to Hatune Koji in Asakusa. It is a neat little area I haven't explored before.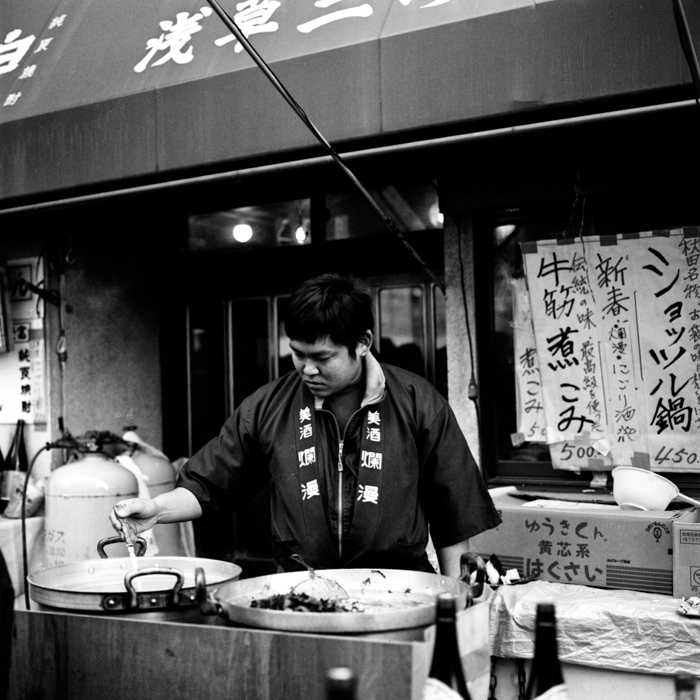 One thing I really like with waist level focusing is you can be having a conversation with someone set your exposure, focus and wait for them to do something or stop looking at you and then snap your photo. With a 35mm you can't just stand there with the camera against your eye for 5 minutes.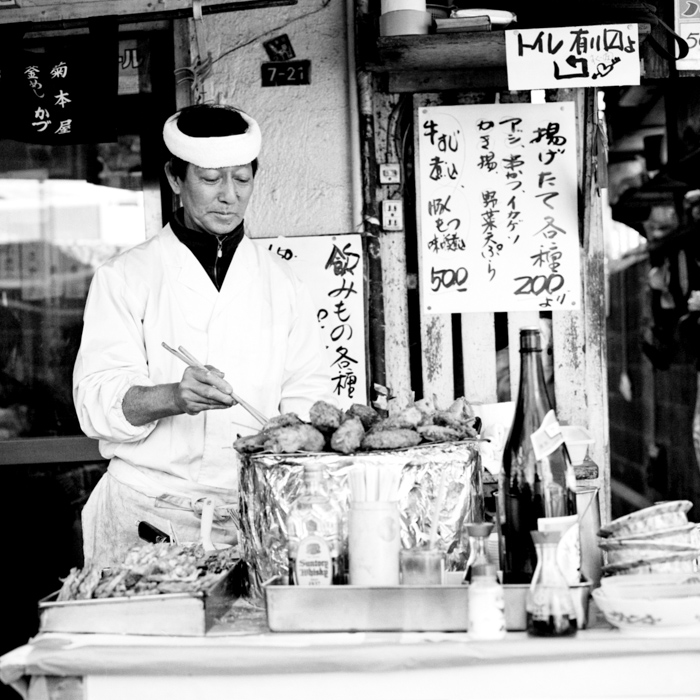 I am still very slow at focusing so I get a lot of these...
Thanks for stopping by today...