Strobist 102 Position Angle
Light, more than anything else, can impact the look and feel of your photographs. It can bring, warmth, depths, and emotion into your photography. One of my self admitted weaknesses as a photographer is lighting. I have collected a good deal of lighting equipment but I have never really gotten around to learning how to properly use them and exploit light to my advantage. It is something I really want and need to improve on if I want to take my photography to the next level. Last night I have finally decided to start the journey to complete Lighting 102 series on The Strobist blog. If you are not familiar, Strobist is written by David Hobby, a photojournalist who has a regular readership of about 350,000 readers. A great resource and worth some of your time if you are interested in learning to light off camera. I have read a lot of the posting on Strobist over the past few years but I have never sat down and completed each exercise so in addition to my regular posts here you will also see my progress with Strobist. The knowledge gained is very different when you sit down and actually do the exercises, no matter how basic they might initially seem and this is exactly what I am planning to do now. I'll try to keep my subject matter interesting and hope that I will ultimately be able to provide better photographs for you here at Shoot Tokyo. I hope that it will be informative and interesting and maybe you can learn a thing or two on lighting or get inspired to take the Strobist journey with me.
Most of us are familiar with what 'on camera' flash looks like. Harsh, flat, bright and unflattering. This is the typical image people have when they think of flash photography. Let's take a look the effect of on camera flash on Kid Robot's Ketchup Dunny.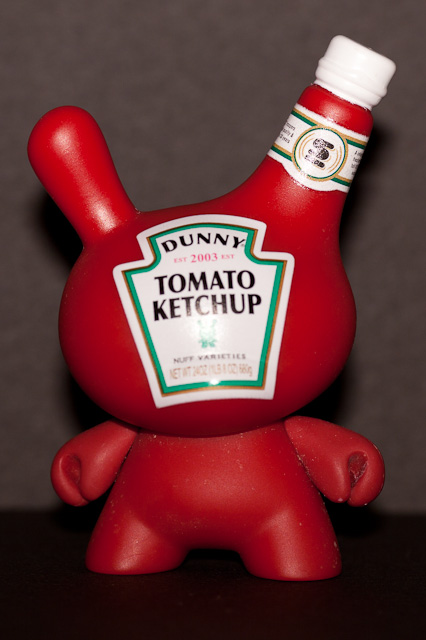 As expected, harsh, flat, bright and unflattering. There is little shape and depth to Dunny. He has that 'flashed' look to him. To bring out the contrast and use light to help shape Dunny let's get the flash off camera and place it camera left 45 degrees.
Look at the significant difference this has on how the light falls on and wraps itself around Dunny. It makes for a much more dramatic and pleasing photograph. The 'flashed' look is gone and replaced by light that seems to be making Dunny look richer, stronger and less like a toy. Lastly let's put the flash camera left 90 degress and see the effect we can get.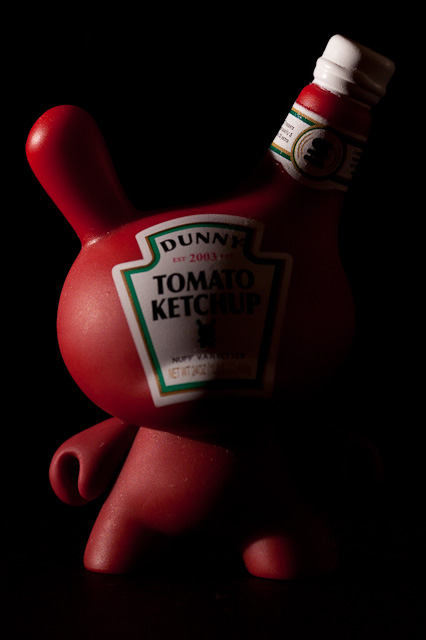 The light only hits his right side making the left very dark making Dunny appear to be coming out of the shadows at you... Let's look at 5 shots of Dunny starting at camera left 90 degrees, then 45, then 0 (on top of camera), then camera right 45, and then 90 degrees. All 5 shots are taken with the same exposure with the flash on the same settings the same distance from Dunny, the only change is the relative angel of the flash to him. It is a pretty different set of effects you can get by simply moving the flash's position to it's subject.
Strobist Information:
Canon 5DMKII, 135mm, ISO 200, 1/200, f/6.3. Canon 580 EXII 1/16 @ 105mm from 110 centermeters, Full CTO. Remote released with Profoto Airsync