Technology and Karma
Technology and Karma going very well together and this weekend they were partners in crime. When processing some photos last week I noticed I started getting some pixels with no information (e.g. pure white or red). Realizing that my sensor was starting to fail I decided it was time for a trip to Canon. I grabbed my trusty warranty card only to realize that he has expired last month so with a bit of angst I headed off to the Canon Service Center on the 1st floor of the Shinjuku Mitsui Building in Nishi Shinjuku (2-1-1) to throw myself at their mercy. As always, Canon service does not disappoint as they are going repair or replace my camera at no cost. They are also going to do a sensor cleaning and a few other tune ups for me. The thought of not having my camera for a week wasn't sitting well with me. I am enjoying my current photography pace too much to take a week off. I went in search of a place where I could rent another 5D. Much to my surprise there is a non-decript building in Yoyogi (2-5-5) that I have walked past daily for the last 8 years that houses MAP Rental on the 4th floor. It is about a 3 minute walk from Shinjuku Station's South Exit (Minami gucchi).
You can rent just about any type of photography equipment at MAP Rental once you get yourself member's card and pay the 1,500 yen signup fee. They will ask you a lot of questions about yourself as they want to ensure you will be returning what you are leaving with so be prepared. They have the entire range of Canon, Nikon, Sony and Leica products plus much more. I walked out with a Canon 5DMKII and a 35mm f/1.4 L. I have always wanted to try the 35mm and after a few days with it, I love it! This will be added to my wish list immediately. The cameras cost about 10,000 yen a day and lens cost from 2,000-4,000. There are discount system for additional days. With my resolve to not let technology get in my way, I returned home with my camera setup ready to start a weekend of family and photography. Karma had slightly different plans for me this weekend...
My 15 inch Macbook's harddrive decided to take it's own life. I am a fairly paranoid person and a situation like this is where my obsessive compulsive personality works in my favor. I have my system set up for daily backups so I only lost a few hours of photo editing and zero data. It could have been much worse. There are lots of ways to respond to these types of situations, I took the practical approach and headed off to the Apple Store in Shibuya to see if they can help fix or replace.
Apple was packed! I was pretty worried that I was settling in for a long and frustrating afternoon and evening. I was surprised how fast, friend and efficient the geniuses of Apple are. My issue was quickly diagnosed and they offer to replace my Macbook on the spot!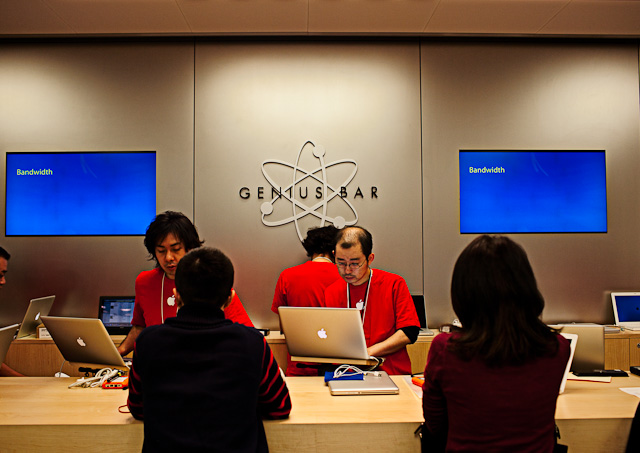 Now what fun would it be to leave with the exact same Macbook that you came with? My thoughts exactly so I upgraded to a 17 inch Macbook Pro, 2.8GHz Intel Core i7,500GB Hard Drive, 8 GB memory and I opted for the Hi-Resolution Antiglare widescreen display for my photo editing. All for only 20,000 yen and after having The Beatles drilled into my head at Apple Store...well you know.
I have to say my experience at Apple was a very pleasant one. Thank You so much to the Geniuses at the Apple Store they took what was a bad experience for me and made it as pleasant as possible. Now if you have never had to recover a Macbook before, all I can say is you are so happy you are using a Mac when the time comes. The process is as complicated as connecting your backup drive, answering a few simple questions and clicking transfer data. The only hassle is waiting for your data to finish copying. Your Macbook takes care of the rest. It really doesn't get easier than this.
People have been warning me that things happen in threes and to watch out for the third thing but my Audi S4 broke down on Monday so I should be covered...now back off Karma!
PS: For good measure my ATM Card become demagnetized last night and stopped working.