Constitution Day with the Tokyo Riot Police
Today is Constitution Day in Japan. Japan's current constitution implemented after World War II in 1947 was drawn up to replace Japan's militaristic and absolute monarchy and replace it with democracy. It turned the Emperor of Japan into "the symbol of the State and of the unity of the people" and exercises a purely ceremonial role. It also formally rejects Japan's right to wage war which is why it is commonly referred to as the Peace Constitution. 今日は憲法記念日(けんぽうきねんび)です。日本の憲法(けんぽう)は平和(へいわ)憲法です。
Japanese Word of the Day: すし詰め(すしづめ)sushizume - jam-packed, to be packed like sushi
Today's configuration: Today I shot my Leica M9 and I shot all of my lens: Summilux 21mm f/1.4, Summilux 35mm f/1.4, Noctilux 50mm f/0.95.
今日のカメラ:私のライカM9をつかいます。レンズをぜんぶつかいきりました。
I started off playing with depth of field on my 35mm to see how much I could isolate an image. I can't get too close with 35mm but here is what I could get at f/1.4.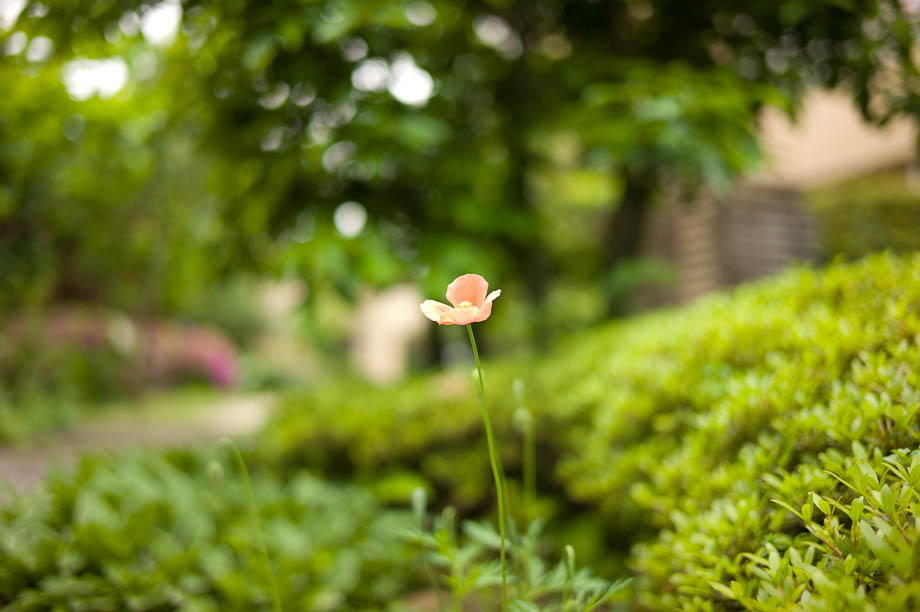 Nice orderly 'No Parking' signs. Clean, clear message. ここは駐車禁止(ちゅうしゃきんし)でしょう!
One thing I love about Tokyo is there are convenience stores everywhere. Very, ah, convenient!  東京にたくさんコンビニがあります。べんりです。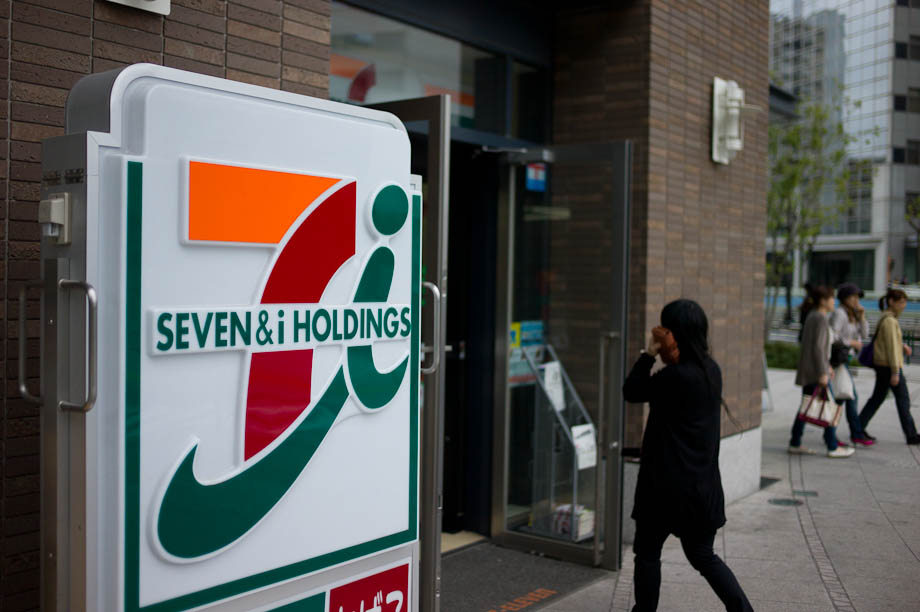 Pizzeria e trattoria de ISA in Nakameguro. I keep meaning to try this place. It is also busy when I go by. I ate at the owners previous restaurant in Omotesando and it was so good. このみせはおいしそうですね。いつもいそがしいです。ここでたべたいです。
Perfect car for this place...can't fit any pizza though.  この車おもしろいです。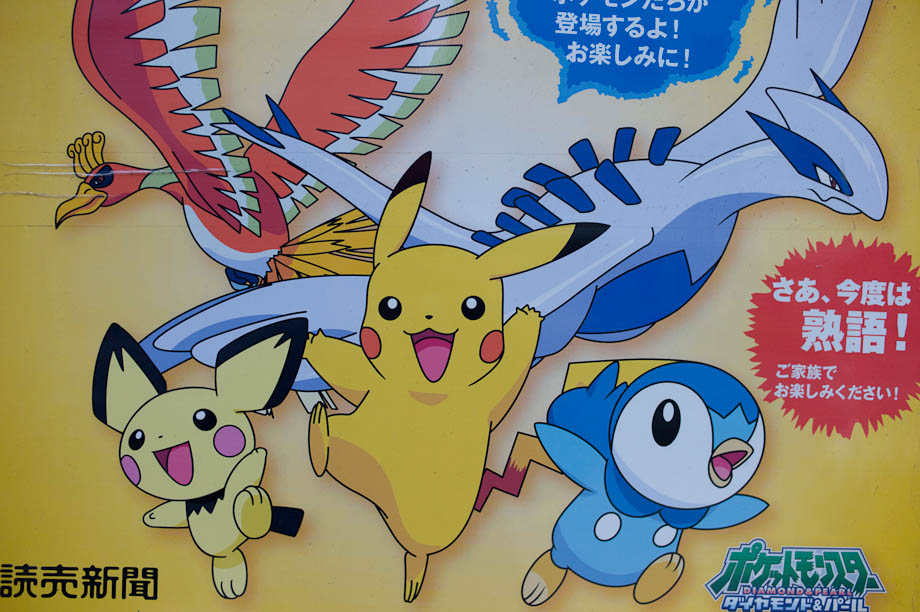 I had to run back to Don Quijote to pick up some batteries as the remote control little car I got Kai last night ran out of batteries. Poor Daddy planning...  私はわるいパパです。海ちゃんのあたらしい車のでんちがないんです。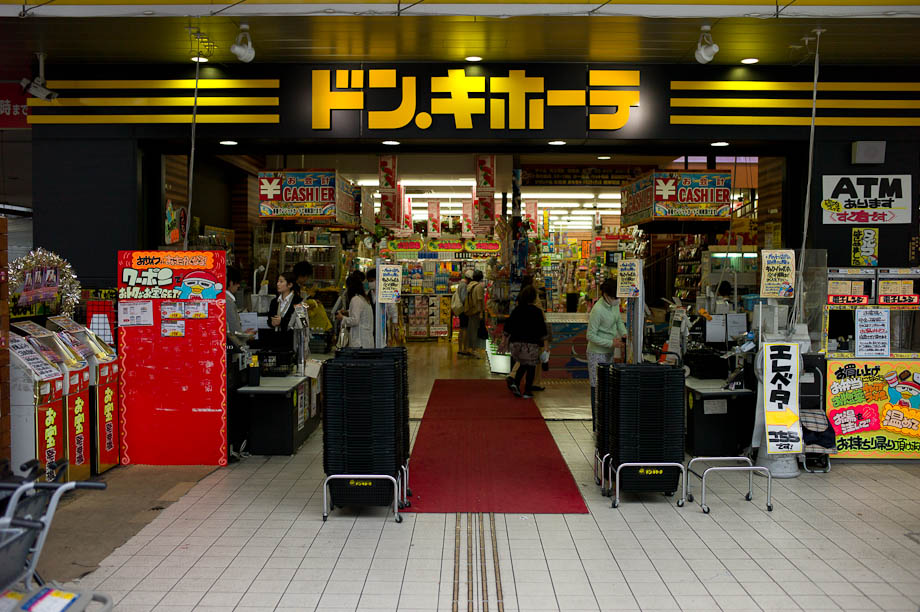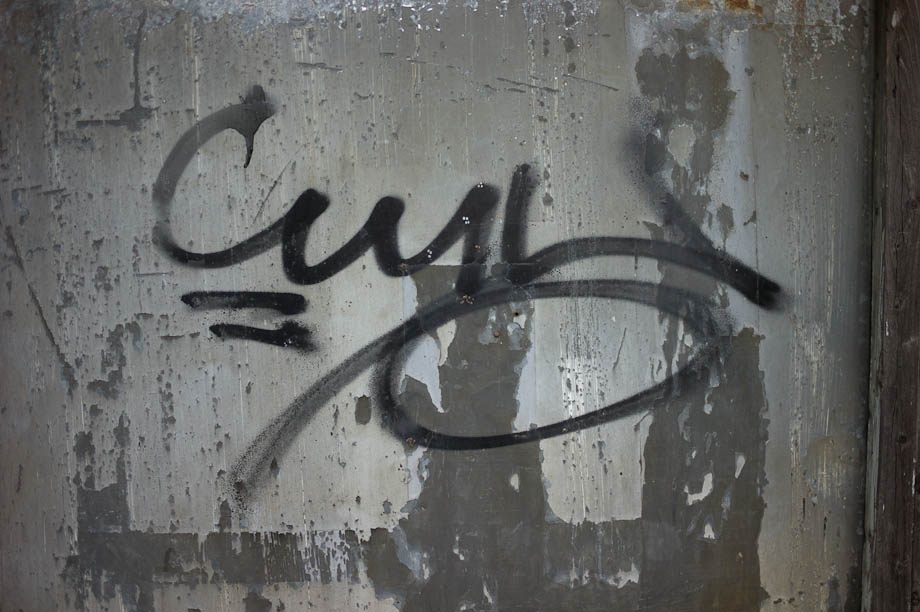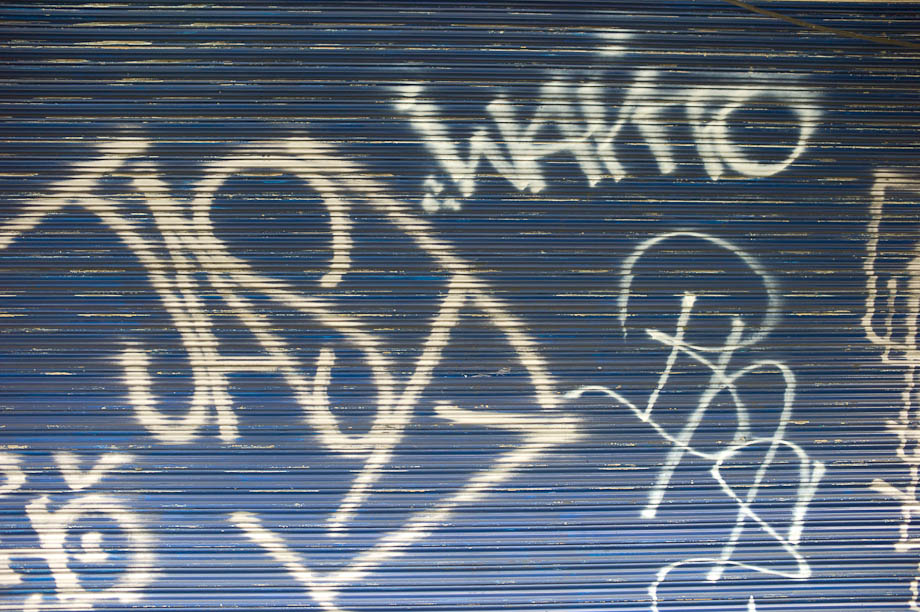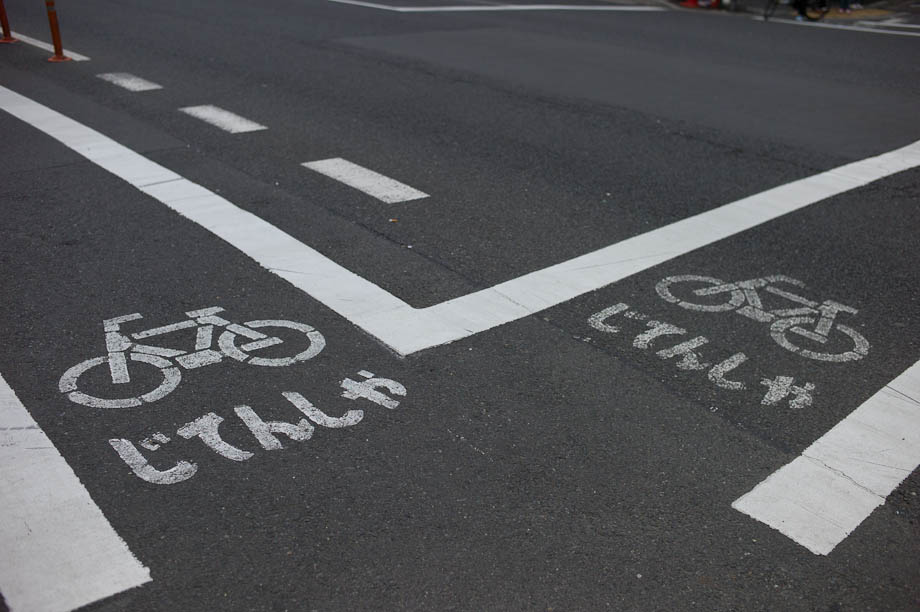 Cute little kid... かわいいこどもです。。。
I saw a new report yesterday that Japan is still rationing Eggs and Toilet Paper...sigh...if anyone believes that and is having trouble getting these products in Tokyo, I have eggs I can sell you for 1,000 yen a dozen and toilet paper for 2,000 a 4 pack. 東京にはもうたまごとトイレットペーパーがあります。大丈夫(だいじょうぶ)です。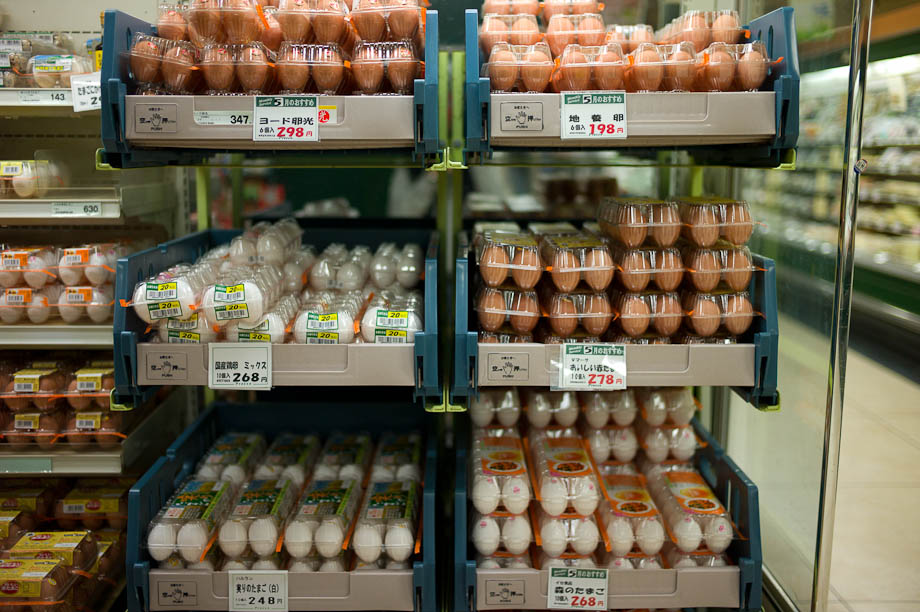 Kai and I went over to visit the hariy crabs while during the Sunday shopping. 私は海ちゃんとカニにあいにいきました。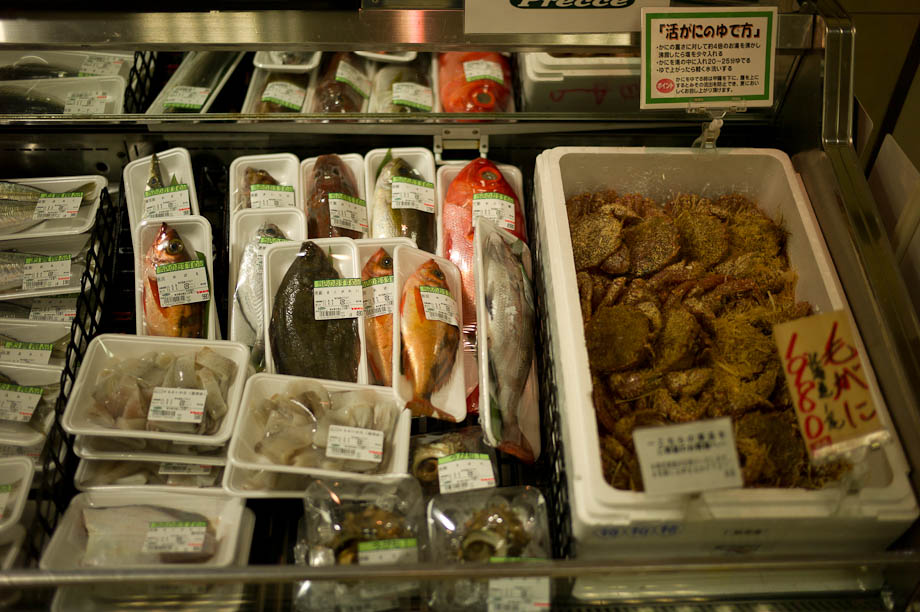 Stained Glass! You never see stained glass in Tokyo.  東京にはあまりステンドグラスがありません。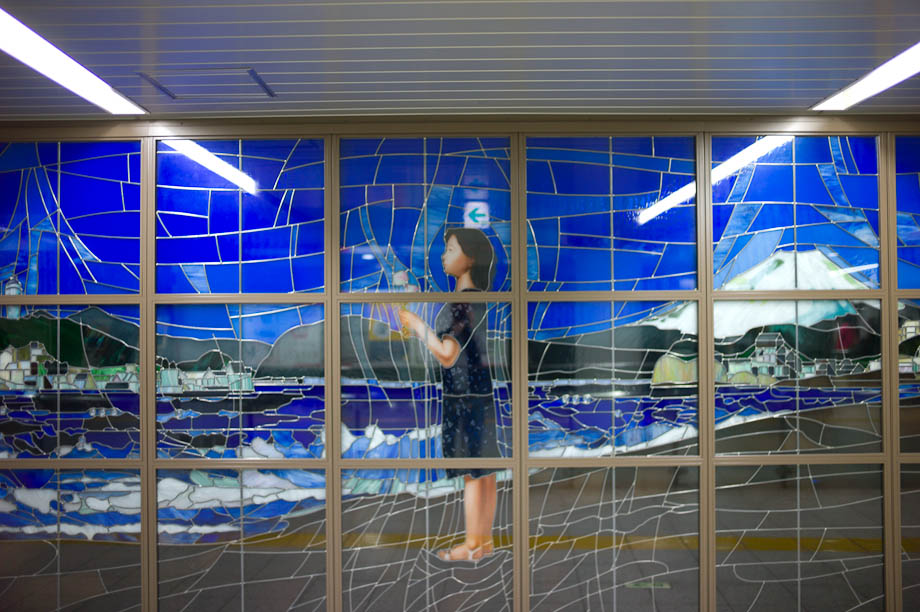 After family shopping I decided to head down to the hotly debated Yasukuni Shrine to see if there was anyone protesting Constitution Day. I don't wish to talk politics on this site but rather explain what I was seeing today without judgement so people who might not understand all of this can. Yasukuni Shrine was formed in 1869 on the orders of Emperor Meiji and is dedicated to the souls of about 2.5 million Japanese men, women and children who died in the name of their country since that time. They include soldiers, war-time nurses, students who entered into battle, and those who committed suicide in shame at the end of World War II. At the centre of the shrine's controversy is the fact that those venerated include 14 convicted class A war criminals, including Prime Minister General Hideki Tojo. This shrine as been the site of many protests with view points for and against. I am not sure if this is by design but I had the hardest time finding the station. My trusty Metro application on my iPhone couldn't find the station, even the map on the train didn't list it.
むずかしいです。。。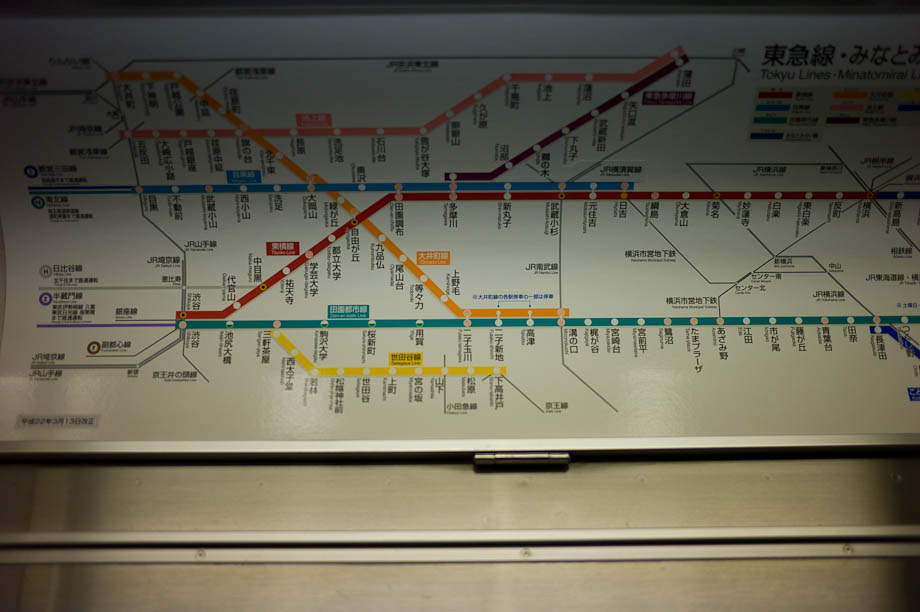 But when I got off it was there...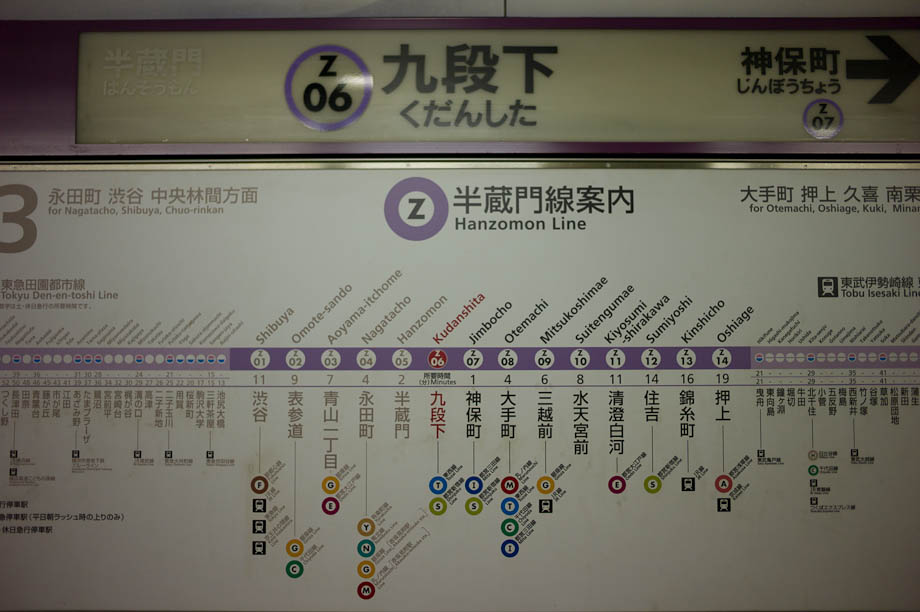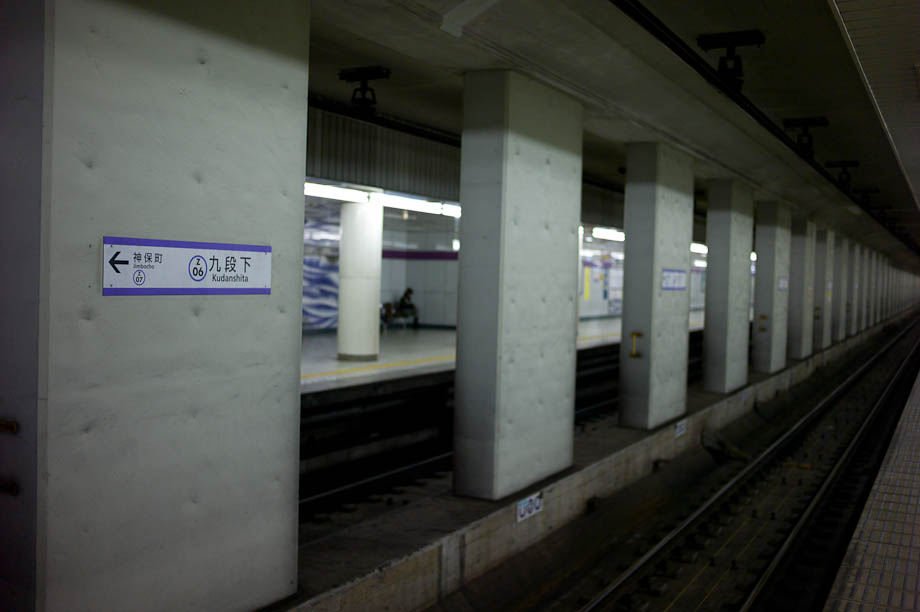 This way to Yasukuni Shrine... こちら靖国神社です。。。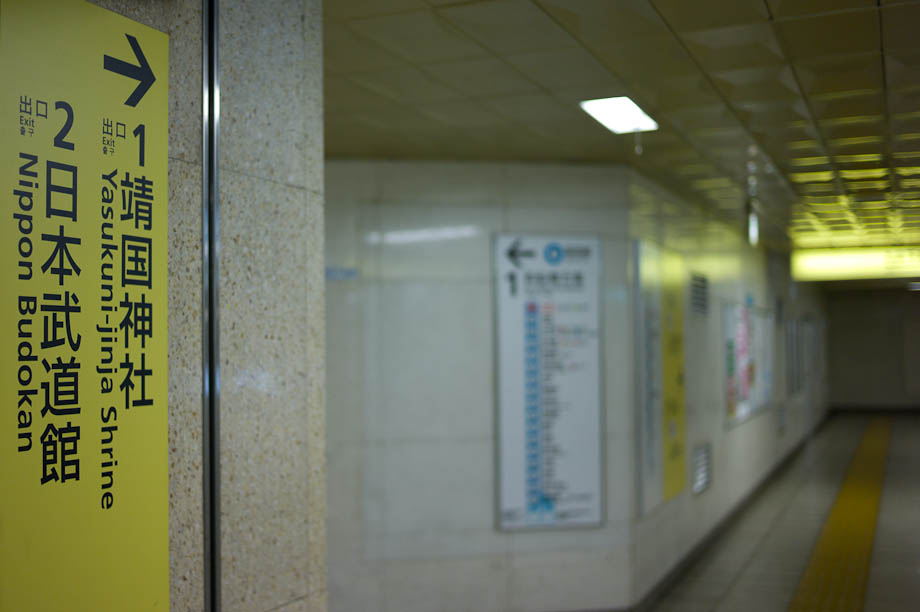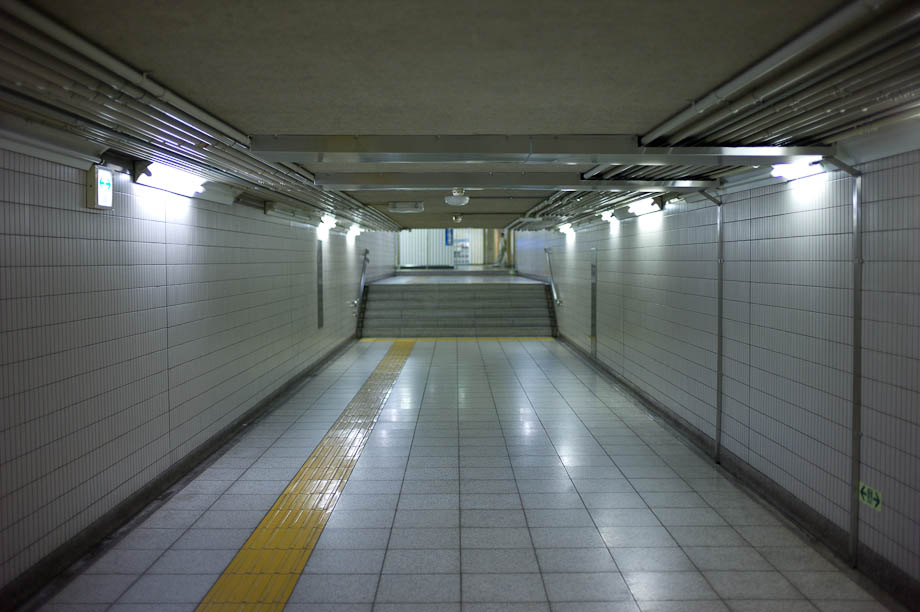 Not everyone in Japan agrees with the new constitution and some people would prefer that the Emperor is 'returned to power'. You can often see these vans parading through Tokyo blaring messages to that effect. この人たちは日本のあたらしいけんぽうにはどういしません。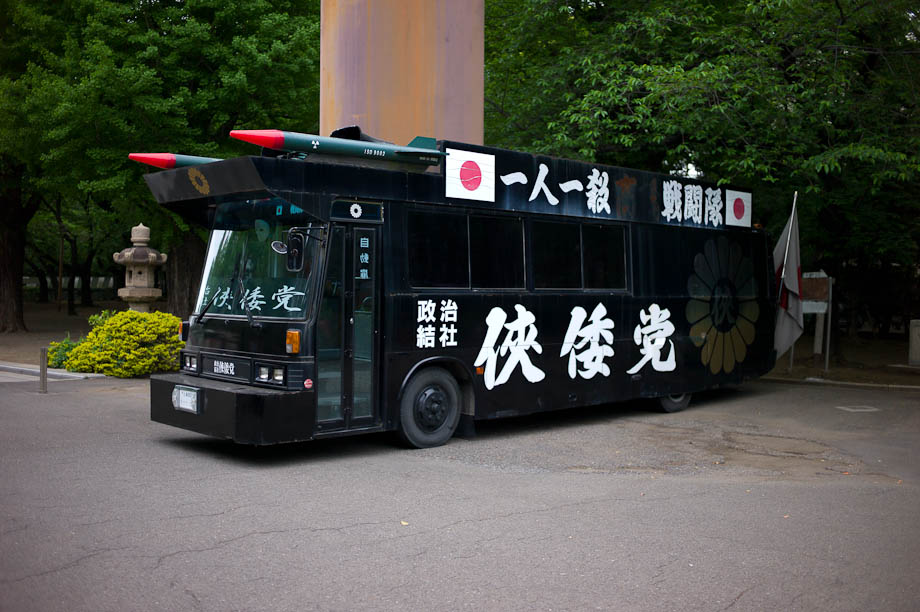 The shrine was much more lively than I expected. じんじゃはしずかです。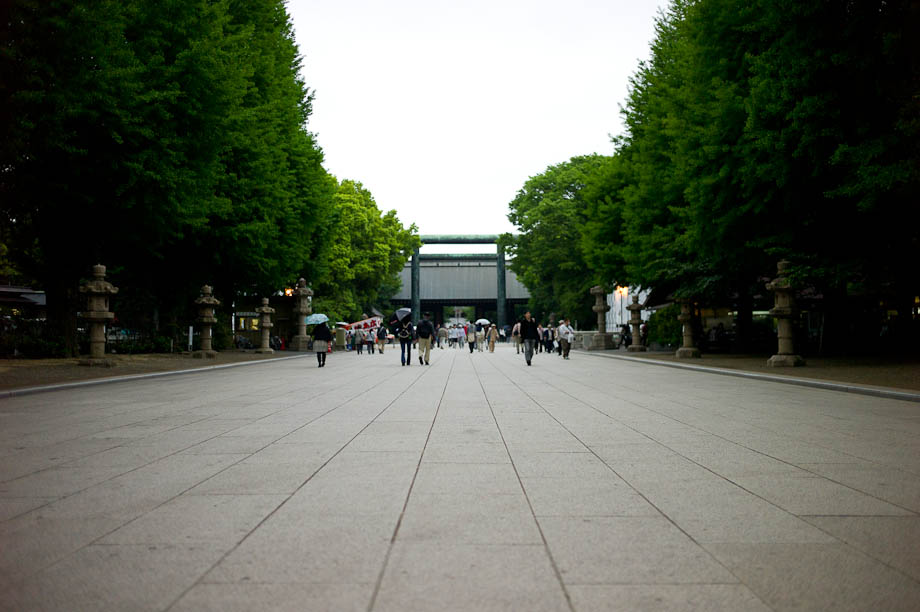 I decided to head down to Tokyo Station and the Tokyo International Forum to see if I could find some new subject matter to shoot and on the way I found where all of the Black Vans were....東京駅と東京こくさいフォーラムにいきます。
and Tokyo's Riot Police...東京機動隊(きどうたい)!!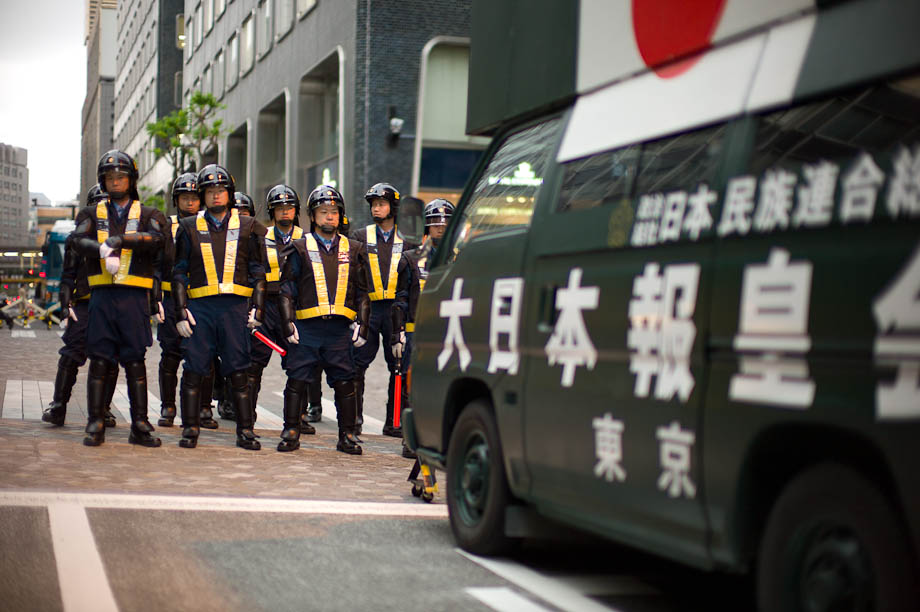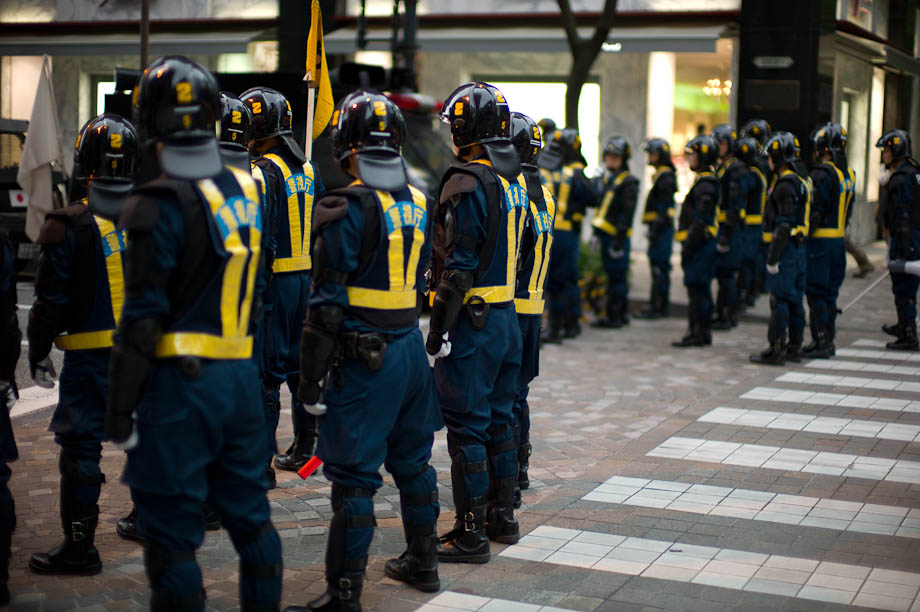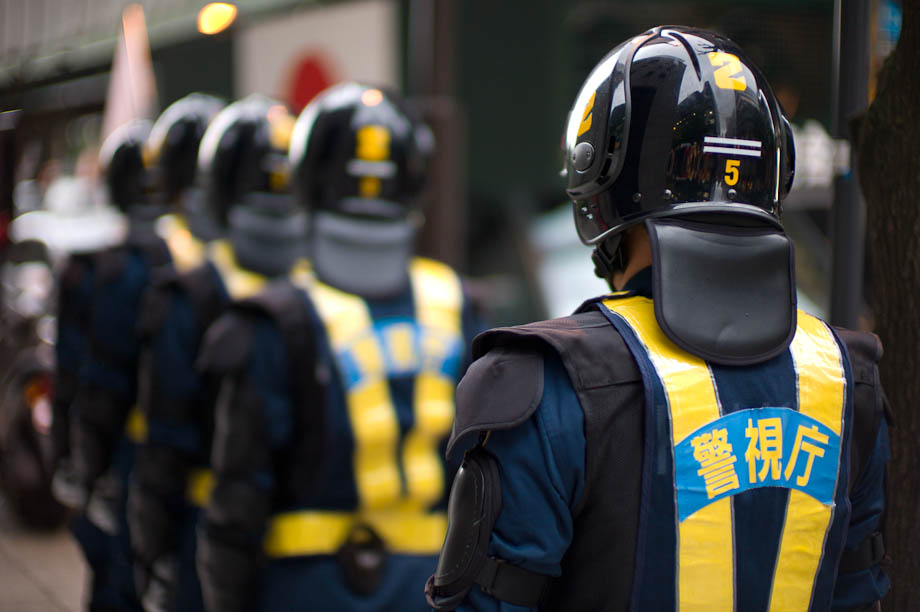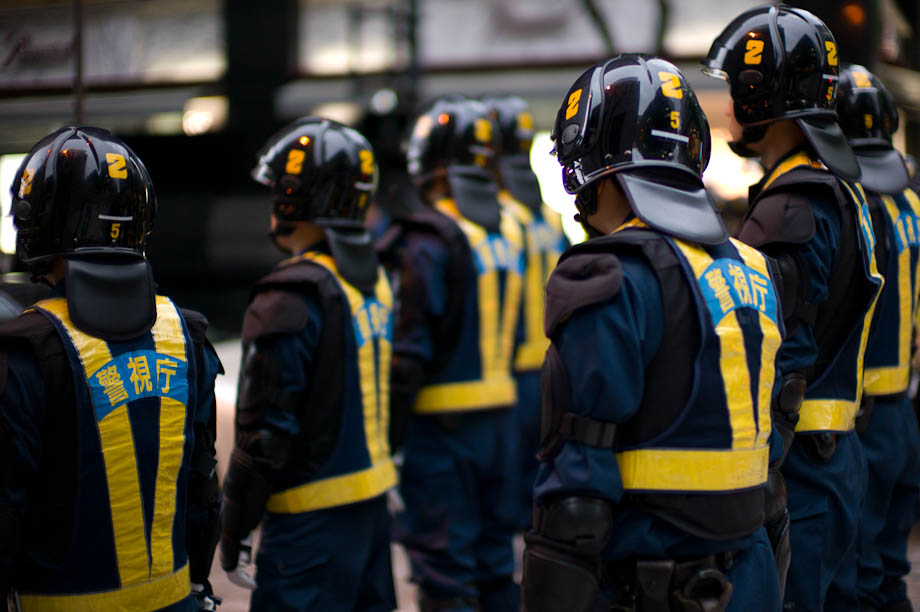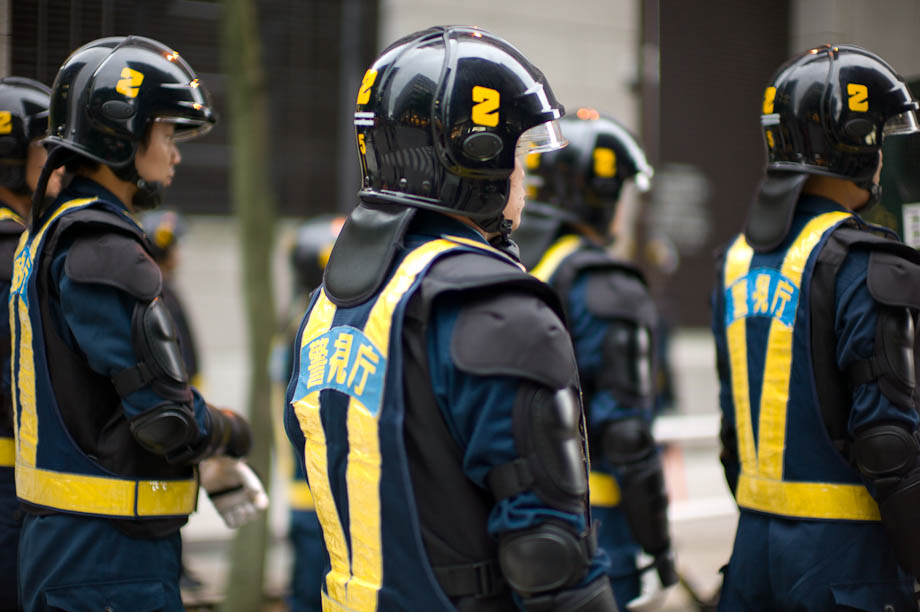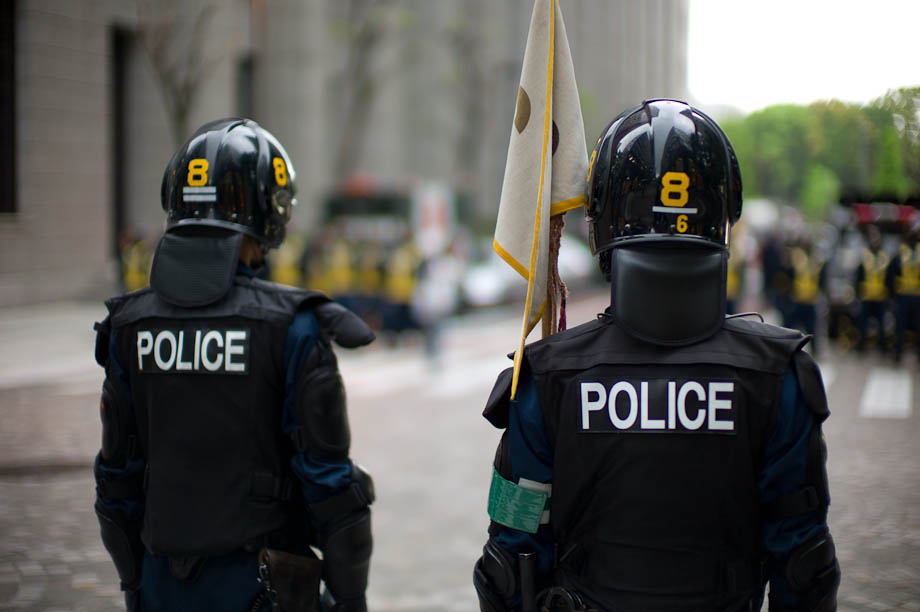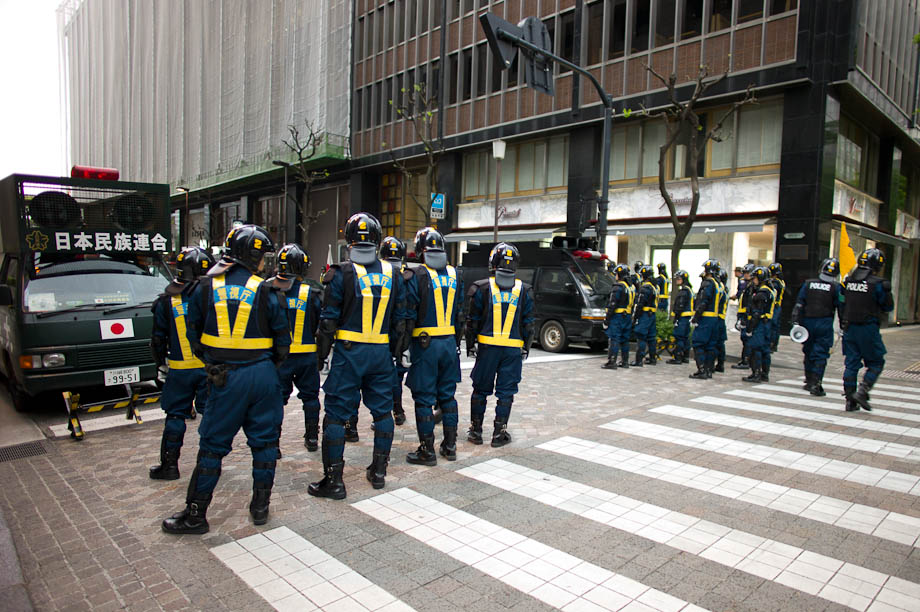 The Black Vans were lining the street and the Tokyo Riot Police were lining them. Nothing overly exciting...a bit of a modern day standoff.
I started to head toward Tokyo Station and found more of them.... and a big Riot Police Bus blocking one of the vans from passing.
Since it is Golden Week and I can fix my shooting schedule, here is what I am planning. If you already know how to use your camera and want to join drop me a line…
Wednesday Late Afternoon: Tokyo Midtown and Roppongi Hills Sky Deck
Thursday: Home with family celebrating Childrens Day
Friday evening: Kichijoji Harmonica Yokocho
Saturday evening: Golden Gai
Sunday: TBD
こんしゅうのスケジュールです。いっしょにしゃしんをとりましょうか? メールください。。。
水曜日のゆうがた: Tokyo Midtown and Roppongi Hills Sky Deck
木曜日:いそがしい。。。
金曜日のよる:Kichijoji Harmonica Yokocho
土曜日のよる:Golden Gai
日曜日:いそがしい。。。
私の日本語をよんでくれてサンキュウベリイマッチです!
The one thing I love about Golden Week is I have lots of time to shoot. I shot so much this is to be continued tomorrow...stay tuned!  ゴールデンウェークはたくさんじかんがあります。たくさんしゃしんをとります。 あしたね!